Did you know there's a chocolate show? Well, yes there is! It's held every year at Olympia, London.
I went last Friday (13th October), which was my 3rd time of visiting. I was wondering whether it would be worth it again – had I seen it all before? But it didn't disappoint! There were lots of new exhibitors
and activities to do.
I enjoyed listening to Paul A. Young (a master chocolatier) telling us how he didn't really plan to become a chocolatier, but just sort of "fell into it" – not literally though! And Nadiya Hussain (GBBO winner) demonstrated her crispy chocolate and salted peanut tart – it looked delicious, I can't wait to
try it
The hi-light of my day was taking part in the Bean to Bar experience with York Cocoa House. They currently make lots of yummy chocolate products, have a chocolate café and run workshops too. They will soon be opening a chocolate factory, importing the beans from South America, and then
making their own chocolate.
The beans I used were from Madagascar. We sorted them and discarded any cracked, flat or oddly shaped beans. They were going to be roasted, and if they are irregular shapes they will not roast evenly. If they are cracked they may have bacteria inside, so are also discarded. They were then laid out on a
roasting tray and popped into the oven for 15 minutes. After they had cooled we weighed them and worked out the calculations for the other ingredients in the recipe (cocoa butter and sugar). After winnowing the beans (removing the outer shell) to reveal the cocoa nibs, these were combined with sugar and added to a grinding machine, followed by the cocoa butter 12 hours later. Unfortunately, I
only visited the show for 1 day and couldn't see the remainder of the process, but I gather this mixture was finally tempered, and set into moulds. The chocolate is currently on the way in the post, I can't wait to see and taste it!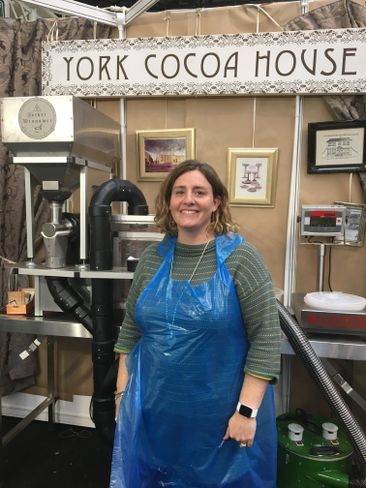 During the day I also took part in a tasting event with Hotel Chocolat and tried their new "No added sugar" chocolate. I saw the Mona Lisa made totally from chocolate, along with other chocolate works of art. There were chocolate dresses, with shoes and sunglasses to accessorise! And did I taste much chocolate? YES, LOADS!